[共同利用] 11/27(月)〜11/28(火)金研2号館講堂にて、東北大金研ワークショップ「アクチノイド元素の科学と技術」及び第9回アルファ放射体実験室利用研究会(合同)

を開催いたします。(仮プログラム)

[管理] アルファ運営委員会を7月4日(火)10:00〜12:00に開催します。

[管理] RI定期検査・定期確認が6月14日(水)に行われます。

[管理] 金研再教育を4月21日(金) 13:30〜15:30に行います。プログラム

[管理] 核燃料物質の使用の変更について承認されました。
| | |
| --- | --- |
| | [研究] アクチノイドの国際会議 Actinides2017が金研の共催で東北大学百周年記念会館(川内萩ホール)で7月9日(日)から14日(金)に開催されます。Actinides2017のホームページ |
| | [管理] アルファ運営委員会を2月13日(月)10:30〜12:00に開催します。 |
| | [共同利用] 10/27(木)〜10/28(金)金研2号館講堂にて、第8回アルファ放射体実験室利用研究会を開催いたします。ダウンロード |
| | [管理] 炉規法に基づく原子力規制庁の立入検査が10月7日(金)に行われます。 |
| | [管理] アルファ運営委員会を6月30日(木)10:00〜12:00に開催します。 |
| | [管理] 金研再教育を4月22日(金)13:30〜15:30に行います。プログラム |
| | [共同利用] 第7回アルファ放射体実験室利用研究会を開催します。ダウンロード |
| | [研究] Alexander V.Andreev氏(Institute of Physics of Academy of Sciences, Czech Republic)によるセミナー「Ferromagnetism in 5f-band metamagnet UCoAl induced by Os doping」を開催します。ダウンロード |
| | [共同利用] 金研大洗センター主催の大洗研究会(アクチノイド分野)(東京)で、アルファ放射体実験室の利用者も講演されます。 |
| | [研究] 10/23(金)〜11/19(木)Alexander V.Andreev氏(Institute of Physics of Academy of Sciences, Czech Republic)がアルファ放射体実験室に滞在研究されます。 |
| | [共同利用] PPMSのメンテナンスが完了し、復旧しました。 |
| | [管理] 7:30〜18:00まで片平団地停電のため、アルファ放射体実験室も停電となります。 |
| | |

連絡先・アクセス
施設名

東北大学金属材料研究所 アルファ放射体実験室




所在地

〒980−8577




宮城県仙台市青葉区片平2-1-1




電話番号




022-215-2161




FAX番号

022-215-2162



地図

以下の地図でA13です。
片平キャンパス マップ
片平キャンパス マップ(印刷用)

鉄道で

JR仙台駅西口、JRあおば通駅から徒歩 約15分。

地下鉄で

地下鉄東西線 青葉通一番町駅 南1出口から徒歩 約8分。

自動車で

東北自動車道 仙台宮城インターから仙台西道路を経由して約6 km、15分。

駐車場

ゲートで臨時の入構許可をとっていただくことはできますが、台数制限が非常に厳しいので、公共交通機関をご利用をお勧めします。

"Single crystal growth of uranium-based magnetic superconductors"
Nagoya Univ., Prof. N. K. Sato
The first example in which superconductivity is induced by ferromagnetic spin fluctuations in the ferromagnet UCoGe[1-2].
[1] T. Hattori, Y. Ihara, Y. Nakai, K. Ishida, Y. Tada, S. Fujimoto, N. Kawakami, E. Osaki, K. Deguchi, N. K. Sato, and I. Satoh, Phys. Rev. Lett. 108, 066403 (2012)
[2] K. Deguchi, E. Osaki, S. Ban, N. Tamura, Y. Simura, T. Sakakibara, I. Satoh, and N. K. Sato, J. Phys. Soc. Jpn. 79, 083708 (2010).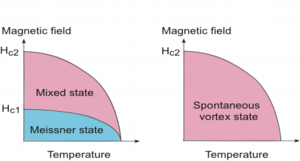 Schematic illustration of a superconducting phase diagram where a spontaneous vortex state emerges as a result of the compromise of the two competitive orders; a vortex state induced by spontaneous magnetization can exist even at zero external magnetic field in UCoGe (right panel), in contrast to a regular type-II superconductor (left panel).


"Magnetic anisotropy controlling of f-metal complexes"
Nara Woman's Univ., Prof. T. Kajiwara
Lanthanide and actinide complexes were widely investigated as candidates for quantum nano magnets, such as a single-molecule magnet (SMM) or a single-chain magnet (SCM), in which each molecule shows superparamagnetic behavior below Tc. We have synthesized the first example of a structurally designed Er(III) SMM[3].
[3] A. Yamashita, A. Watanabe, S. Akine, T. Nabeshima, M. Nakano, T. Yamamura, T. Kajiwara, Angew. Chem. Int. Ed., 50, 4016 (2011).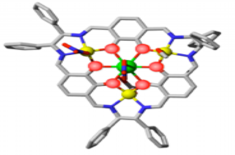 Molecular structure of Er(III)Zn(II)3 wheel-shaped tetranuclear complex where Er(III) ion (shown in green) is located in the center of six equatorial oxygen donor atoms. This type of anisotropic coordination geometry is essential for Ising type magnetic anisotropy for Er(III) ion.


"Study of quantum phase transition on U-compounds"
Kyoto Univ. , Prof. K. Ishida
The U compounds occupy an important place in condensed-matter physics, since novel phenomena have been discovered, e.g.: "ferromagnetic superconductivity," in which mutually exclusive ferromagnetism and superconductivity coexist in the same compound; "hidden order," in which an order parameter of the ordered state has not been identified;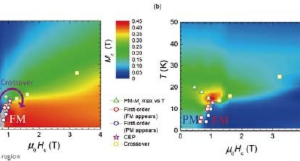 Prof. K. Ishida (Kyoto Univ.) performed 59Co- NMR in UCoGe and his collaborations with N. Kimura (Tohoku Univ.) was focused on the critical behavior of magnetism near the metamagnetic critical endpoint (CEP) in itinerant-magnet UCoAl by 27Al-NMR. They pointed out that the critical phenomena at the itinerant-electron MM CEP in UCoAl exhibited a common feature as a "gas- liquid" transition, from the critical exponent of Mc and Sc near the CEP[1]
[1] K. Karube, T. Hattori, S. Kitagawa, K.Ishida, N. Kimura, T. Komatsubara, Phys. Rev. B 86, 024428 (2012) Selected for Editors' suggestion
"An application of the neputuniam series radionuclides for targeted radionuclide therapy"
Kanazawa Univ. , Assist. Prof. K. Washiyama
α-particle emitting radionuclides are gaining attention in the field of nuclear medicine. Because of their high linear energy transfer and the short range of α-particles in tissues, α-emitters (211At, 223Ra, and 225Ac) show promise in treating tumors such as leukemia, melanoma, and bone metastases.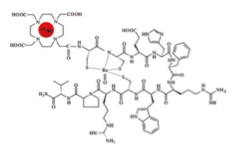 Structure of DOTA-Re(Arg11)CCMSH labeled with an α-particle emitter, 225Ac. Recently, we labeled a peptide DOTA-Re(Arg11) CCMSH, which bound specifically to a receptor expressed in melanoma cells, with an α-emitter 225Ac.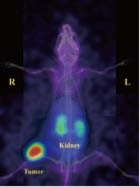 Melanoma imaging of 111In-labeled DOTA- Re(Arg11)CCMSH in a B16F1 murine melanoma- bearing C57 mouse. Preliminary results using the γ-ray emitter 111In showed a high uptake of DOTA- Re(Arg11)CCMSH in melanoma tumors. Therapeutic studies using 225Ac are currently under- way.


"Hydrothermal synthesis for fabrication and reprocessing of MOX nuclear fuel"
Laboratory of Alpha-Ray Emitters, Asoc. Prof. T. Yamamura
An application of hydrothermal synthesis to fabrication and reprocessing of MOX fuel was focused in order to improve the nuclear fuel cycle much simpler and safer. This process enables us to reduce amounts of radioactive wastes and possible risks of fire and/or explosion, and also to control various specifications of the MOX fuel.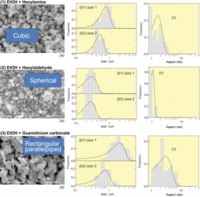 With a reductant, crystal of UO2 of the product is indefinite, whereas the second additive alters a fashion how the crystal grows of UO2, i.e. the shape and the size. Simultaneously, the additives govern the reductive atmosphere and determines the non-stoichiometry x of UO2+x in the range of 0.05-0.2.
"Vanadium solid-salt battery: Solid state with two redox couples"
Laboratory of Alpha-Ray Emitters, Asoc. Prof. T. Yamamura
A VSSB containing solid-composites of VOSO4/(VO2)2SO4 and VSO4/V2(SO4)3 in its positive and negative half-cells, respectively, was developed. An average EE and energy density of 87% and 77 W h kg–1, respectively, were achieved and maintained even after 2000 cycles.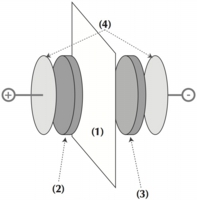 Schematic of a VSSB: (1) ion exchange membrane, (2) carbon felt electrode supporting VOSO4·x4
H2O, (3) carbon felt electrode supporting V(SO4)1.5·x3H2O, (4) glassy carbon electrode.